It goes without saying that I enjoy making bread! We are meeting some good friends of ours at the pool tonight for a family swim and picnic.  What do we need for a picnic? Let's do sandwiches but make some homemade bread, shall we?!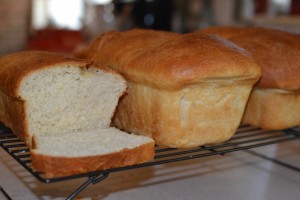 Let's start with making a nice white sandwich bread (shown above).  It is the perfect bread….light, soft, & fluffy. My only complaint is that it made three huge loaves….could have made four if I had another loaf pan.  SO you might want to have some friends lined up to eat some of this amazing stuff:)  I followed this recipe from Annie's Eats! Click on the link for her recipe and instructions!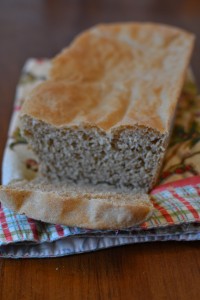 And now onto a whole wheat loaf with a bit of honey added in!  I found a recipe that uses a little coconut oil and was intrigued.  The directions were written for a bread machine or so you could make it by hand. I am too lazy to make it by hand….I have a KitchenAid for a reason you see. It mixes and kneads my breads quite well. So I will share her recipe but my instructions for how to make!
Ingredients:  Makes 1 loaf or 10-12 rolls
 1 c plus 1 T warm water
1 scant T active dry yeast
1 T coconut oil
1 T olive oil

1 tsp salt
3 c white whole wheat flour (or any combo of bread flour/whole wheat flour)
Directions:
In the bowl of your mixer, add water, yeast, and honey. Using your dough hook mix together. Let yeast sit until bubbly which takes around 5 minutes.
Mix the coconut oil and the olive oil.
Add in the oil mix and the salt to the dough.
Using the dough hook, mix in 1.5 cups of the flour. Mix well
Add remaining flour in half cup increments until dough is coming together and all flour is used.
Now, let your mixer knead the dough for 6 minutes or until the dough comes together in a soft ball. It will still be a little sticky but that's ok.
Grab another bowl and pour one Tablespoon of oil into it.  Place dough in this bowl and flip over to grease both sides. Cover with saran wrap and allow to rise until doubled in size. (about an hour)
Remove dough and place on parchment paper. Roll out into a rectangle.  Roll rectangle up into a log and place into a greased loaf pan. Cover and let it rise for about another half hour.
Bake at 350 for 15 minutes.
Cover with tinfoil and return to the oven for an additional 15 minutes. (total baking time is 30 minutes, but you want to cover it half way through cooking to ensure it doesn't get to brown on outside)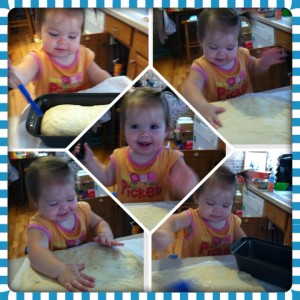 Enjoy! Don't I have the cutest little helper, ever?!