Not only did we make two types of bread today, but we also made chocolate cupcakes. My husband has been begging for me to make a white chocolate raspberry icing, so today I did that just for him! I prefer a basic buttercream so I made that too! It's a take your pick kinda day;)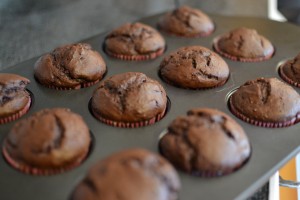 Let's start with my favorite chocolate cake recipe.
For the cake:
1 package of devil's food cake mix
1 (3.9 oz) package of instant chocolate pudding mix
2 teaspoons of vanilla extract
Directions:
Preheat oven to 350.
Combine all ingredients in the bowl of your stand mixer. Beat for about two minutes on medium speed until well combined.
Pour into desired pan and bake.
*For bundt cakes, bake 50 to 55 minutes.
*For 9 inch cake layers, bake 25-30 minutes.
*For cupcakes, bake 18 minutes.
Recipe adapted from My Baking Addiction.
And now for the icing: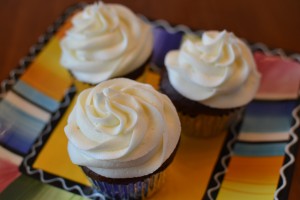 Basic buttercream: (will make enough to do 12 cupcakes)
Beat one stick of salted butter until light and fluffy.
Add in one teaspoon of vanilla and mix well.
Mix in 2 cups of powdered sugar.
Add 2 Tablespoons of whole milk.
Mix in 2 more cups of powdered sugar.
Add in up to 2 Tablespoons of whole milk.  More milk=thinner icing, Less milk=thicker icing
White Chocolate Raspberry Icing: (will make enough to do 12 cupcakes plus a few more)