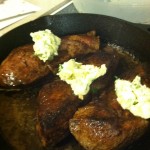 So I was looking for a way to make steaks without using the grill. I came across a pin on Pinterest that peaked my interest! I gave it a whirl on Valentine's Day….I have been making it ever since. It is absolutely the best way to cook a tender, juicy steak. With my parents in town, I served steak and baked salmon for dinner last night.  My parents said my steaks rivaled the nicest steak restaurant they had ever eaten. Mom also loved the salmon! SO here are both recipes for you to try!
For the steak recipe, click here!
For the salmon recipe, click here!
*You will need a cast iron skillet to cook the steaks! I also didn't have sesame oil on hand, so I used olive oil instead for the salmon marinade!
**Sorry to not have pics…feeding a family of five plus my parents means I was doing good just to get dinner on the table:) Well, I found one picture of the steaks that I made a while back!