Looking for a light, fluffy, and moist chocolate cake recipe? Then look no further….this is my "go to" recipe. It is simply the BEST!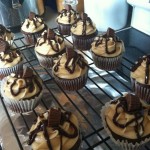 For the cake:
1 package of devil's food cake mix
1 (3.9 oz) package of instant chocolate pudding mix
2 teaspoons of vanilla extract
Directions:
Preheat oven to 350.
Combine all ingredients in the bowl of your stand mixer. Beat for about two minutes on medium speed until well combined.
Pour into desired pan and bake.
*For bundt cakes, bake 50 to 55 minutes.
*For 9 inch cake layers, bake 25-30 minutes.
*For cupcakes, bake 18 minutes.
Recipe adapted from My Baking Addiction.
For the Peanut Butter Frosting:
3 sticks of unsalted butter, softened
1 cup of creamy peanut butter
2 Tablespoons of vanilla extract
5.5 cups of sifted powdered sugar
6-8 Tablespoons of heavy whipping cream (if using milk, the amount will be less). I only use 4 tablespoons of whipping cream total.
Directions:
In the bowl of your mixer, cream butter and peanut butter on medium speed until light and fluffy….takes a few minutes.
Turn mixer down to low and add in powdered sugar, little by little.
Add vanilla and whipping cream and beat until combined.
Add an additional Tablespoon of whipping cream at a time until you reach desired consistency.
Turn mixer to high speed and beat until smooth and fluffy!
For the chocolate ganache:
4 oz of semi sweet chocolate, cut into little pieces
1/2 c heavy whipping cream
2 Tablespoons light corn syrup
2 Tablespoons vanilla
2 Tablespoons honey
Directions:
Heat cream over medium heat until it starts to bubble.
Place chocolate pieces into a glass (heat proof ) bowl.
Pour the hot whipping cream over the chocolate.
Let it sit for five minutes. Then whisk it together.
Add vanilla, honey, and corn syrup. Whisk together.
Let it sit until you have desired thickness. The longer it sits, the thicker/harder it becomes. Wouldn't recommend letting it sit longer than 10 minutes.
*Decorate cupcakes or cake as desired.
*I used a 1M Wilton tip to pipe the peanut butter frosting onto the cupcakes, drizzled the chocolate ganache on top, and topped it off with a Reese's peanut butter cup! Plus I added a little surprise into each cupcake…before baking the cupcakes I lightly pushed a frozen mini Reese's peanut butter cup into each cupcake!
Enjoy! Would to hear what you think if you give this a try:)