One of my favorite things to do is decorate cakes and cupcakes.  Cupcakes are particularly easy, and you can do a lot of different things with them!  Here are a few of my recent cupcakes!
Let's begin with the icing….Most often I use a basic buttercream icing recipe from Wilton. You can find it here.
Since I have been making this icing for a while, here are a few tips:
The temperature of the butter matters here! I like to set my butter out for 30 minutes to an hour before making icing.
When mixing the butter and the crisco, make sure to really whip it! You will want to mix on medium to high speed until the butter mixture is pale in color.
Be sure to sift the powdered sugar to remove any clumps. This is particularly important for detail decorating!
Do not add as much milk as called for in the recipe! Once you have mixed the butter, crisco, vanilla, and powdered sugar you can add a tablespoon of milk. If the icing is still too stiff, add one more tablespoon of milk. I usually make a double batch of this icing and only add two tablespoons of milk total and sometimes none at all!
A double batch of icing will make about 6 cups and cover 24 cupcakes decorated like the ones shown above.  I LOVE a cupcake with a lot of  icing;)
I make my icing and cupcakes the day before I need them. I store cupcakes in a sealed container on the counter, and store the icing in a sealed container in the fridge.
On the day of I will take the icing out of the fridge and whip it with my mixer before using.
NOW that you have icing, let's talk a little about decorating! Here are a few things you will need to do a basic swirl on your cupcakes. All can be purchased at a craft store or Walmart!
Decorating Bags (Wilton's disposable decorating bags)
Wilton cake decorating tip labeled 1M.
A coupler is optional. I have a large one purchased from Hobby Lobby, but also saw one at Michael's today.
Let's fill our decorating bag with icing. Cut a one inch triangle off the tip of the decorating bag.  Slide the icing 1M tip into the bag so that it is just sticking out. If using a coupler, do the same thing but the coupler goes inside the bag instead of the tip. See below pictures.
A little trick I learned along the way is to take a drinking glass and place the decorating bag into the cup. Peal the sides of the bag down around the cup. Now the bag is open and ready for icing.  This is tricky to explain in words, so I took a few pictures too.
In the picture above I filled the bag with red and blue icing to make super cute red and blue spiderman cupcakes. It created a two colored swirl that I loved.
You can also stick with plain white icing and use a color mist spray made by Wilton to give the cupcakes an airbrushed look.  It can be found at Walmart! One of the pictures in the beginning displays the color mist spray, but here is another look at a cake I made with white buttercream icing. I used a pink color mist spray to finish it and give it this two toned look!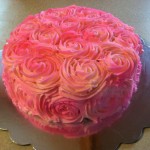 SO if you are still reading this, you might want to know how to make the swirls on the cupcakes?? Check out this tutorial from Wilton on how to make the swirls! Click here for the tutorial.
I hope you have found this helpful! I will keep posting tips and tricks as well as some cupcake recipes soon! Happy decorating!