About a year ago, I started making my own vanilla extract. You will NOT believe how simple it is and how it tastes so much better than the stuff you can buy at the store! Give it a try….you won't be disappointed!
You will need:
Vodka
Vanilla beans (5 beans per 8 oz vodka)
glass jar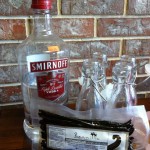 Directions:
Pour vodka into glass jar. The jars I used here are 8 oz jars found at Hobby Lobby!
Slice vanilla beans lengthwise to expose the insides.
Place vanilla beans into the jar.
Seal and shake.
Keep in a cool, dark place for about six weeks.
Shake the jar every couple of days.
After six weeks or so, the vanilla should be ready to try!
Add more vodka as you use the vanilla.  I add more beans every six months to increase the flavor.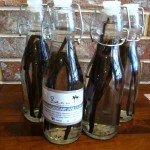 The vanilla shown above was just beginning…it takes time to darken and develop flavor!
Want to know where I buy vanilla beans? I order the from here.  Great quality, prices, and fast shipping.  I prefer Madagascar beans, but they sell all kinds of varieties! BEST of all, vanilla beans have free shipping right now.  What are you waiting for?  Go make vanilla!