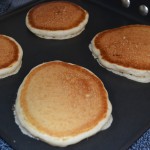 Once upon a time we lived in the South close to all of our family! Oh was it nice! Occasionally we would drive to the in-laws for the weekend.  Mark's dad (aka "Paco" to our kids) would make us pancakes every Saturday morning! They were the BEST!  Something we looked forward to for sure.  At some point, I asked Paco to share his "secret" recipe….and that he did plus he taught me first hand how to make his pancakes! It's been a few years, and I still make them each Saturday morning.  Reminds us of our Southern roots:) SO you are in for a treat with this recipe! SO much better than the stuff in the box…and not too hard to make!
Ingredients:
2 cups all purpose flour
4 teaspoon baking powder
2 Tablespoons brown sugar
1 teaspoon salt
2 cups milk
2 teaspoons vanilla extract
1/4 cup vegetable oil
2 eggs
Directions:
Mix flour, baking powder, brown sugar, and salt in a bowl.
Whisk milk, vanilla, oil, and eggs together in another bowl.
Add wet ingredients to the dry ingredients and mix until just combined. Don't overmix.
Cook on hot griddle!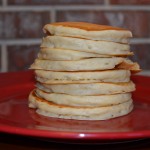 Stack of pancakes anyone?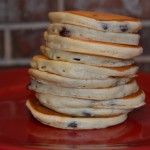 For a tasty variation, add milk chocolate chips to the batter before cooking!