Since 2013 when I first posted about decorating sugar cookies with royal icing, I have practiced and learned a lot about the process in the last few years.  Friends constantly ask how I do this, that, or the other when it comes to cookie decorating!  So today I finally have a minute to sit down and put that all into one place….I hope this helps get you started on making your own cookie creations soon!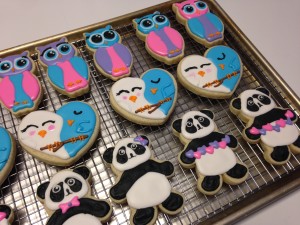 Just a few of my latest creations above inspired by SweetAmbs!  Be sure to check out her cookie tutorials as she has some amazing cookies and lots of helpful information!
Let's start with my favorite cookie recipe: (It has almond flavor that I think makes the cookie, but if you want to leave it out feel free.) This recipe is for a small batch of cookies and doubles well. Hard to say exactly how many cookies it will make because that depends on the size.  I usually get around 2 dozen from a single recipe and closer to 4 dozen if doubled.
Ingredients for the cookies:
1 cup of unsalted butter
1 cup of granulated sugar
2 eggs
2 teaspoons of vanilla
1 teaspoon of almond extract
3 and 1/4 cups of all purpose flour
1/2 teaspoon of salt
Directions:
Using your mixer, cream butter and sugar until light and fluffy.
Beat in eggs, vanilla, and almond extract.
Combine flour and salt in a separate bowl.
Slowly add the flour mixture into the egg mixture until completely combined.
Dough will be slightly sticky.
Divide the dough into half and place each piece onto a sheet of parchment paper.
Lay another piece of parchment paper on top of each piece of dough.
Use your rolling pin to roll out the dough to 1/2 inch between the two sheets of parchment.  This keeps it from sticking to your rolling pin.
Place rolled out dough into the freezer until well chilled. Around 30 minutes to an hour.
Once dough is chilled, gently pull the parchment paper away from the dough.  Do this for both sides so that the dough is no longer stuck to the paper when you go to cut your shapes.
Use cookie cutters to cut our desired shapes. Re-roll the scraps and if the dough is still cold enough you can go ahead and cut out more shapes.  However, if the dough is beginning to soften you will need to put it back in the freezer for a bit.
Bake cookies at 350 for about 10-14 minutes.
And onto the royal icing:I use a recipe from The Adventures of Sweet Sugarbelle.  She has so much information on cookie decorating and such.
Here are the ingredients for royal icing:
2 lbs of powdered sugar
5-6 Tablespoons of meringue powder
2-3 teaspoons of flavoring (extract)
3/4 cup hot water
TO make the icing, I dump the entire bag of powdered sugar into my mixing bowl. I add the meringue powder and mix the two together.
I add 2 teaspoons of almond extract and 1 teaspoon of vanilla to the 3/4 cup of hot water.
I slowly add the flavored water to the powdered sugar mixture and beat on low-medium for about 6-10 minutes until I have a nice thick icing.
I add the water the recipe calls for initially but wait to add any more until I have mixed the colors.  To make the colors, I divide the royal into small bowls and use gel food coloring to tint to the desired color. I then add water a tiny bit at a time until I get the right flooding consistency.  I like my icing to be stiff enough to stay on the cookie yet not so stiff that it doesn't flood the cookie easily.  For me this is the hardest part of using royal.  You just have to play with consistency.  TIP: To thin add water. To thicken add powdered sugar.
 I use cake decorating bags with decorating tips to create all of my cookies.
I use one consistency of icing for all of the decorating. I outline the cookie and immediately flood it (fill in) so the outline never shows.
And now to show you a few more of my latest creations…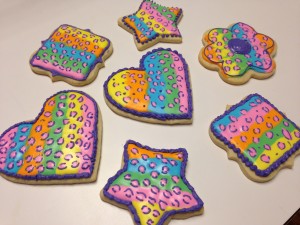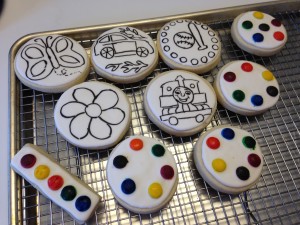 Paint your own cookies are always fun!