It's almost dinner time, and you need a carb to complete your meal, right?! Here's a really good recipe for dinner rolls that will be ready in an hour or less!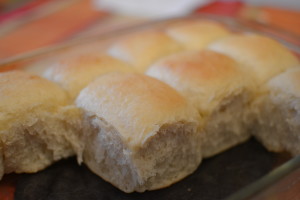 Ingredients:
4 and 1/2 cups of all purpose flour
1 and 1/2 teaspoons of salt
2 packets of active dry yeast (or 4 and 1/2 teaspoons)
1/4 granulated sugar
3/4 cup water
2/3 cup milk
4 Tablespoons of butter
Directions:
Preheat the oven to 180 degrees.
In a medium bowl, add sugar, water, milk, and butter. Heat in a microwave for about 1 minute until it's fairly warm but not too hot or it will kill the yeast.  You can stir it to get the butter to melt in the rest of the way. Sprinkle the yeast on top and let it proof (that just means it gets all bubbly on top) for about 5 minutes.
Pour the milk mixture into your mixing bowl.
Use the dough hook to mix as you slowly pour in the flour and the salt.
Once it's all incorporated, let the dough hook work its magic for about 5 minutes on low speed.
Cover the bowl with saran wrap and let rest for five minutes.
Grab a 9 x 13 pan and grease it with a little butter.
Grab the dough and put it onto a silpat mat or parchment paper or a floured surface so it won't stick.  Smooth it into a large rectangle and cut the dough into 15 equal pieces.
Make each on of those pieces into a little ball and place into the buttered 9 by 13 pan.
Brush the tops of the dough balls with a little water to keep them from drying out while rising in the oven.  Put the pan into the oven and turn it OFF.  Allow the dough to rise for 20 minutes….don't peek.
Take the entire pan out and let it sit while you turn the oven back on to 375 degrees this time.
Once the oven is preheated, pop the rolls back in for 14-16 minutes.
Once baked, brush with a little melted butter if you dare!
*This recipe came from Cooking Classy….I just changed a few little things!