We enjoy making our Golden Retriever dog treats!  We tried a new recipe today that was super easy, and Layla approved!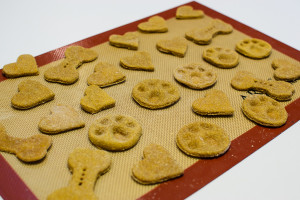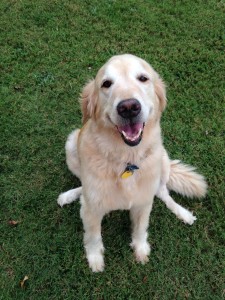 Homemade Banana & Pumpkin Dog Treats
Ingredients: (Makes about 3 dozen)
1 very ripe banana
½ can pumpkin purée
1 tablespoon honey
2 cups whole wheat flour
½ teaspoon baking powder
Directions:
Preheat the oven to 350°F.
 Mix banana, pumpkin, and honey in your mixing bowl.
Add flour and baking powder and beat into the mixture.
Roll it out on a floured cutting board  and cut out shapes with a cookie cutter.
Place on a baking tray covered with parchment paper or a silpat mat and bake for 10–12 minutes. They should be lightly golden.
Cool on a wire rack.
Store in a jar with a closed lid.
Recipe adapted from: Sweet Paul
To make the circles have paw prints on them here's what I did.  After you cut the circles out, bake for 2 minutes.  Pull the tray out of the oven. Use thumb to make an imprint and the pinkie finger to make the little toes.  The imprint is easy to make if the dough is slightly warm rather than making it before you cook it.