My daughter recently had a birthday and wanted brownies on her birthday.  So I searched and found a recipe that looked good. I am happy to say it was! And it makes a small batch of brownies instead of a huge pan!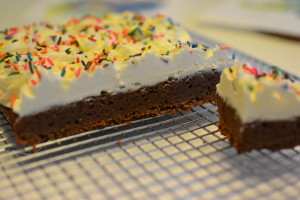 Brownie Ingredients:
1/2 cup unsweetened cocoa powder
1 cup all purpose flour
1/2 teaspoon baking powder
1/4 teaspoon salt
1 cup sugar
1/2 cup butter (melted)
1 teaspoon vanilla extract
2 large eggs
Brownie Directions:
Melt the butter in a microwave safe dish and set aside.
Mix dry ingredients together in a bowl: cocoa, flour, baking powder, and salt.
In your mixing bowl, beat the melted butter and sugar together. Add vanilla and eggs.
Slowly add in the flour mixture and mix until combined.  Batter will be thick.
Line an 8 by 8 pan (or similar) with foil. Spray foil with nonstick spray and pour batter into the pan.
Bake at 350 for 30-35 minutes.
Cool brownies completely and then make buttercream frosting if desired!
Buttercream Frosting Ingredients:
1/2 cup butter, room temp
1/4 Crisco (vegetable shortening)
2 and 1/2 cups powdered sugar
1-2 Tablespoons heavy whipping cream
1 Tablespoon vanilla extract
sprinkles (optional)
Buttercream Frosting Directions:
Beat the butter in your mixing bowl with the Crisco for about ten minutes.  The color will lighten so watch for that and it's ready.  Be patient with this one as this step helps with the buttercream texture tremendously.
Add in the powdered sugar, vanilla, and heavy cream and mix well.
Adding more cream will make the icing smoother and easier to spread.  If you plan to use the icing to decorate you will want to keep the icing a bit stiffer so it holds shape.
If you want to avoid the crisco, that works too. Just substitute real butter in its place!  Crisco is really just used to help the icing hold shape but not needed!
Spread or pipe the icing onto the brownies and use sprinkles if you like!