My daughter is turning six soon and loves all things reptiles. She has spent her summer researching which reptile might be the perfect pet for her. She chose to do a frog theme for her birthday party!  I made frog cookies, a frog pond cake, and cupcakes!  Here are some pictures so you too can be inspired and make your little reptile enthusiast birthday treats!
Here's the cake:
I made a chocolate two layer cake, covered it with vanilla buttercream, and then made covered the top with a thin sheet of blue buttercream fondant.  I used Kit Kat candy bars all around. The ribbon helps hold the candy in place but is really more for looks than anything else!  The decorations on top were all made of buttercream fondant by myself and some of my very cute nieces and nephews! This cake was super easy to throw together and oh so much fun to do!
Here are the cupcakes:
I made yellow cupcakes, iced some with chocolate buttercream, and the rest were iced with vanilla buttercream.  I made tons of buttercream fondant decorations to finish the cupcakes off!
Here are the cookies: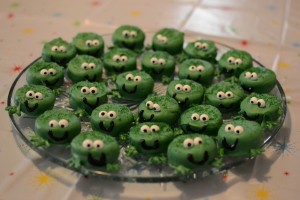 For the cookies, my niece helped me dip Oreo cookies in green candy melts. We used little candy eyes and green sprinkles.  I used a piping bag to make little feet on the front!