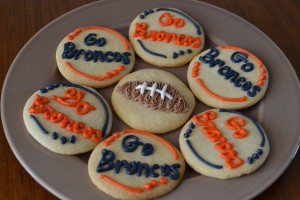 Today we made some old fashion sugar cookies and decorated them with a basic buttercream icing. Since the Broncos are playing tonight, we decided Bronco decorations were only fitting! This is a great sugar cookie recipe given to me by my husband's sweet Aunt Lauri!  It is great for rolling out and using cookie cutters…
Ingredients:
2 and 3/4 cups all purpose flour
2 tsp baking powder
1/2 tsp salt
1/4 c shortening (Crisco)
1/4 c butter
1 c sugar
2 eggs
1 tsp vanilla
Directions:
Sift together the flour, baking powder, and salt.

Using your mixer, cream the shortening, butter, and sugar.
Beat in the eggs one at a time and then add the vanilla.
Slowly add the flour mixture and mix well.
You can chill the dough (or not)!
Roll dough out onto floured surface and use cookie cutters of desired shape.
Bake cookies at 400 for 10 to 12 minutes.