Sugar cookies are a favorite around here. After trying many recipes, I came across this one…it is my "go to" now! These cookies turn out so well each time….give it a try!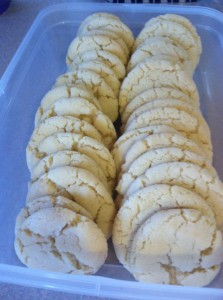 Ingredients:
2 1/4 cups all-purpose flour
1 teaspoon baking powder
1/2 teaspoon baking soda
1/2 teaspoon salt
1 1/2 cups sugar, plus 1/3 cup for rolling
2 oz cream cheese, cut into 8 pieces
6 tablespoons unsalted butter, melted and still warm
1/3 cup vegetable or canola oil
1 large egg, at room temperature
1 tablespoon milk
2 teaspoons vanilla extract
Directions:
1. Preheat oven to 350 F.
2. In a medium bowl, whisk together the flour, baking powder, baking soda, and salt. Set aside.
3. Combine 1 1/2 cups of sugar and cream cheese in a large bowl (no need to stir them together yet). Put the remaining 1/3 cup sugar in a bowl and set aside. Pour the warm butter over the cream cheese mixture and whisk to combine – the mixture won't be completely smooth yet, that's fine. Whisk in the oil then the egg, milk and vanilla extract. Mix until smooth.
4. Use a rubber spatula to start folding the dry ingredients into the wet.  Continue mixing until a soft dough comes together. Refrigerate at least 30 minutes. This dough is soft and sticky so it's easiest to work with after it has been chilled.
5.  Make 1 inch balls and roll the balls in the sugar.  Place balls onto cookie sheet and flatten a little with the bottom of a glass.
6. Bake for 8 to 10 minutes. The cookies will not look quite done but that's ok. You don't want to bake them until they are brown…they would be crispy instead of nice and soft!
*Makes about 3 dozen cookies, depending on the size of cookie balls you make!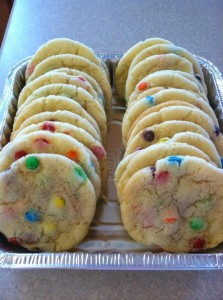 *For a fun variation, add a cup of M & M's to the batter before refrigerating the dough.  If I add M & M's to the batter, I will also add a couple of M & M's to the top of the cookies just as I am pulling them out of the oven. Enjoy!
**Original recipe from Joyful Momma's Kitchen.