With my parents in town, I haven't been in the kitchen as much or making many crafts with this kids this week.  We have been too busy exploring the beautiful Rocky Mountains!  My mom asked me to help her figure out how to make red velvet cake cookies with a buttercream icing. So I found some recipes, and we got started. Let me just add I am not a fan of red velvet cake but this one is for my mom and it was good! You could use a chocolate cake mix instead, and in my opinion these would be even better!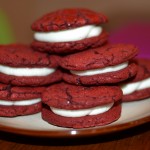 For the cookies:
1 box of red velvet cake mix (or any flavor you want)
1/2 c vegetable oil
2 T all purpose flour
2 eggs
Directions:
1. Combine cake mix and flour and stir. Mix in eggs and oil until well blended.
2.  Use an ice cream to scoop a small amount of dough and roll into a ball.
3.  Bake at 350 for 8-10 minutes.
4.  Let cool.
For the icing:
1 stick salted butter (1/2 cup), softened
1/2 c crisco (vegetable shortening)
2 teaspoons vanilla extract
4 c powdered sugar
2 T milk
Directions:
1.  Beat the crisco and butter in the bowl of your mixer until fluffy. For about 5 minutes.
2.  Add in vanilla and mix.
3.  Add in powdered sugar, 2 cups at a time and mix well.
4.  Add milk to make icing into your desired consistency. For these cookies, I wasn't doing any detailed decorating so I used the full 2 T milk to make the icing fairly soft!
*Using a Wilton icing tip, I piped the icing onto the back of a cookie and topped with another cookie!