I LOVE bread and rolls are no exception. This is absolutely, hands down the best roll recipe I've tried! Working on rolls now, so here is a picture of the rolls rising! These are super soft and buttery….sure to please any crowd!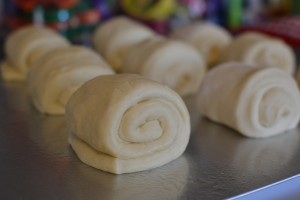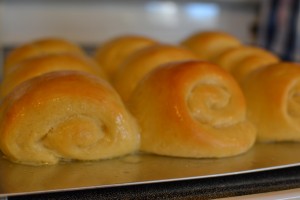 Ingredients:
2/3 cup nonfat dried milk
2 cups warm water
2 TB active dry yeast
2 teaspoons salt
1/4 cup sugar
1/3 cup butter (softened)
1 egg
5 cups bread flour
Directions:
Mix water and powdered milk in your mixing bowl. Sprinkle yeast on top and allow to rest for five minutes.
Add in salt, sugar, butter, egg, and 2 cups of the flour. Mix well.
Mix in two more cups of flour.
Add the fifth cup of flour little by little until dough comes together. I usually end up using the entire cup.
The dough will be a bit sticky…do not add more than the 5 cups of flour.
Grab a tablespoon of vegetable oil and drizzle over dough. This will keep dough from being so sticky and will also prevent it from drying out.
Work dough into a ball in your bowl and cover with saran wrap. Set aside and allow to rise until it doubles in size.  Takes 30 minutes to an hour.
Roll the dough out into a large rectangle  and cut into rectangular pieces.
Roll each rectangle into a roll shape.
Place on a lightly greased cookie sheet and cover with a towel.
Let the rolls rise until they are doubled in size.
Bake at 350 for 12 to 15 minutes.
Brush with melted butter when they come out of oven!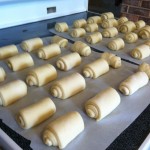 Click here for original recipe!