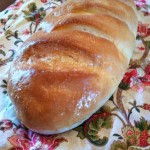 If I had to chose two types of food to survive on…..it would be desserts and bread!  I enjoy making anything with sugar and any type of bread!  I didn't have much time tonight, so I set out for a quick rise bread.  I found an amazing French bread recipe.  When I think of French bread, I think of crispy outside with a light, airy inside.  This recipe  isn't quite that but the bread was nonetheless delicious!  Not many yeast bread recipes are this quick and easy!  Give it a try….and let me know if you do!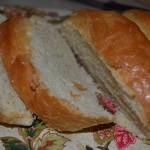 Ingredients: (makes one loaf)
1 and 1/4 c warm water
1 Tablespoon of active dry yeast
1 Tablespoon sugar
1/2 Tablespoon salt
1 Tablespoon olive oil
3 c bread flour
Directions:
Pour water into the bowl of your mixer.  Stir the sugar and yeast into the water.  Let stand for about five minutes or until yeast is bubbly.

Add in the salt, oil, and flour.  Mix ingredients all together using the dough hook.  Let it mix on low speed for about five minutes.
Let dough rest in the bowl for ten minutes.
Roll dough into a large rectangle.  I prefer rolling it out on parchment paper.
Now let's make the loaf by starting with the long side of the rectangle.  Roll it tightly toward the opposite side into a log.  Pinch seams together. Place seam side down.
Using a serrated knife, cut a few slits into the loaf.  Sprinkle with a little white cornmeal.
Let the dough rise for 30 minutes.
Preheat oven to 375.
Lightly brush top of loaf with water.  (I actually forgot to do this and it was just fine.)
Bake for 25 minutes.
Brush with melted butter and enjoy!
You can find the original recipes as well as some other yummy looking things here!
Just as a side note: I served this amazing french bread with an equally amazing baked chicken Parmesan.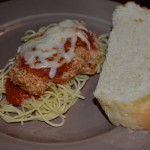 Here is the recipe for the chicken Parmesan.
And this is what little tot did while I enjoyed this dinner….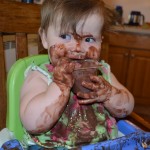 Not too bad for her first time feeding herself…and she's not even one yet:)