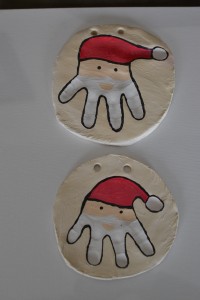 Last year I came a cross an idea to turn the kids' handprints into a Santa design. These turned out super cute!
I never found directions on exactly how to do this, but I will do my best to explain it to you!
1.  Grab a bucket of Crayola Air Dry Clay from Wal-mart. (Or make your own salt dough)
2.  Roll it out and cut out a circle or shape of your choice.  Just make sure it's big enough to fit the hand print.
3.  Press your child's hand print into clay and let it air dry. I think it took a couple of days.  Just follow directions on clay package. If you want to hang it with a ribbon, be sure to cut out holes before the clay dries.
4. Use acrylic paints to color the hand print like Santa!